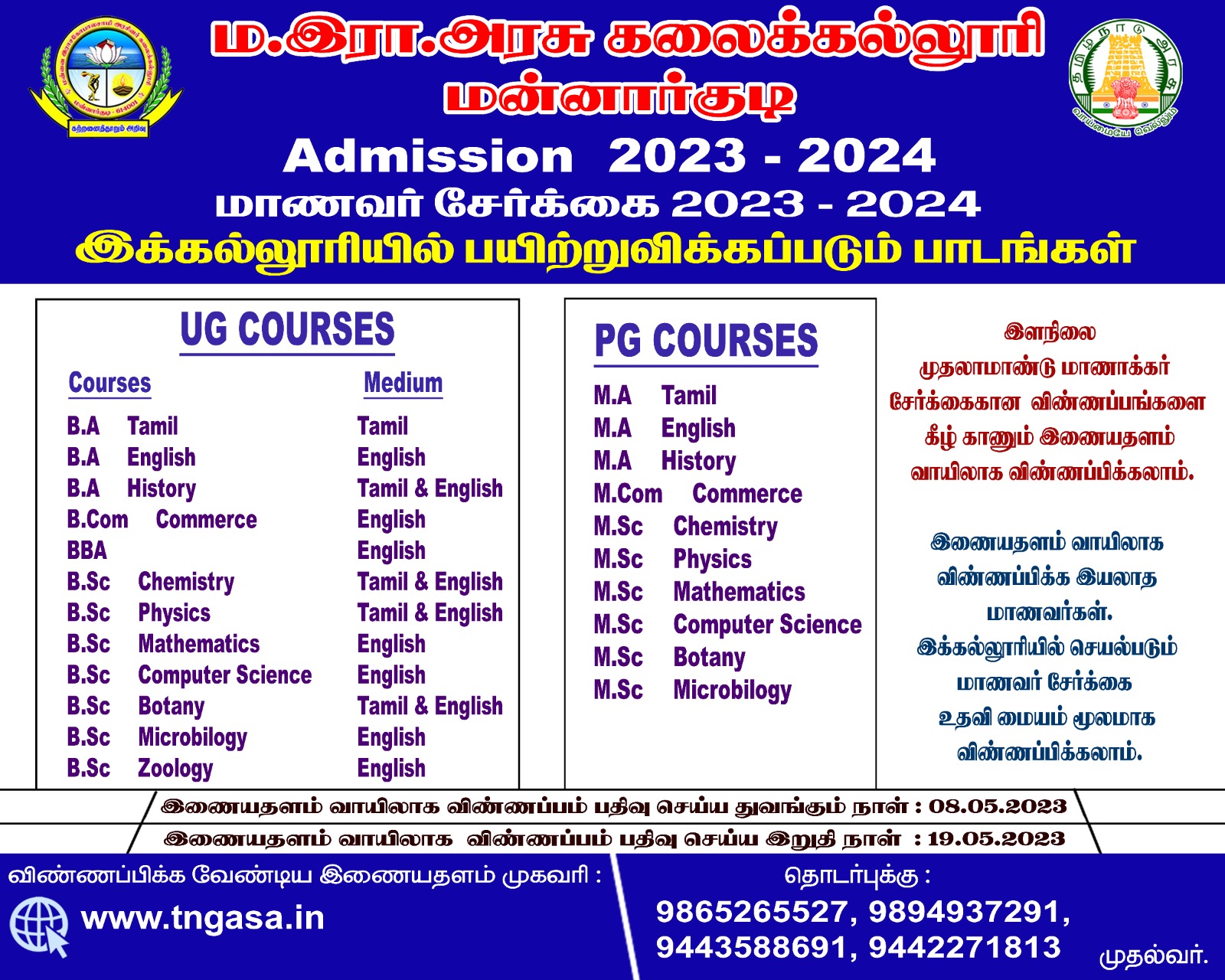 Welcome to MR Government Arts College
The rural and underprivileged people of Mannargudi region found it difficult to pursue higher education as there was no college in this area. So, a few good people whoe were interested in social welfare decided to found a college in Mannargudi. Many philanthropists of this area helped establish a college and thereby educate the youth of this rural and underdeveloped area.

A committee was formed to collect fund to achieve the end of founding a government college in Mannargudi. While the District Collector of Tanjore presided over the Comkittee, The Revenue Divisional Officer was its Secretary and Mr. T.G. Chandrasekaran Chettiyar was its Treasurer. Many philanthropists, religious and other organisations of Mannargudi and its nearby places helped enormously to construct the college building. The notable ones of them are:

Mannargudi Rajagopalaswamy Temple
The Muslim League of Koothanallur
K.R.M. Estate Charity
Kottur Kozhundheeswaraswamy Temple
Mr. T. Partharasarathi Naidu

Former minister Mr. Mr. Mannai P. Narayanasamy helped a lot for the establishment of the college. The college was commissioned on 07.07.1971. The then Chief Minister Dr. M. Karunanithi formally inaugurated the college on 13.08.1971. The college college has a sylvan campus of forty acres and two hundred and twenty six square feet which was provided by Mannargudi Rajagopalaswamy Temple. The Government of Tamil Nadu paid the price for the land to the temple in 1987-88.

The course B.A. History was started in 1972; B.A. English Literature in 1978; B. Sc. Botany in 1978; B.Sc. Physics in 1979; B. Sc. Chemistry in 1980; B. Sc. Mathematics in 1985; B. Com. In 1990; B. Sc. Computer in 1996; M.A. Tamil Literature, M. Sc. Chemistry, M.A. History, B. Sc. Microbiology and B.B.A. courses were started in 2004-05. M. Sc. Computer Science, M. Com. And M. Sc. Mathematics were started in 2005-06. students are now studying in this college. The college, which was earlier affiliated to the University of Madras, was affiliated to the Bharathidasan University, Trichirappalli in the academic year 1982-83.